We have 3 founding principles :
* To contribute to a more equal distribution of medical care all around the world
* To create a trusting network of business partners sharing the same ideal
* To work according to the key values of << sincerity >>, << courtesy >>, and << gratitude >>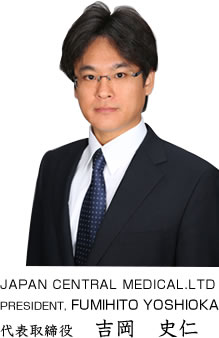 Japan is lucky to have many medical institutions with state-of-the art equipment, and all Japanese people can receive advanced medical care. But as Japanese medical institutions constantly upgrade their equipment, the previously used machine, though perfectly functional and still quite modern, is discarded. We have made our goal to avoid this waste and make sure these equipments are put to good use wherever they are needed.To fulfill this mission and support medical care all around the world, I started Japan Central Medical, a company that buys functional medical equipments from Japanese institutions and exports them overseas. We are endeavoring to do our part to help protect human health all around the world. My wish is that Japan Central Medical becomes a bridge between Japan and the world in the field of medical equipment.


The logo of Japan Central Medical is using green, blue, and several colored lines.
The green color represents plants. Similar to plants, medical equipments are crucial to people. The blue color represents sea, and the curved line represents planet Earth.
The same lines with the same length repeatedly support each other.
Our earnest feeling stated in our logo is "by repeatedly using the medical equipments, people living in Earth support each other, and for them to receive the medical services equally, we would like to be their bridge."